Crypto
DFI.Money (YFII) Reaches All-Time Lows After Breakdown from Long-Term Support
IN BRIEF
YFII has broken down from the $2,800 support area.
The price is following a descending resistance line.
YFII is likely in wave 5 of a bearish impulse.
The DFI.Money (YFII) price has broken down from a long-term support area and proceeded to reach a new all-time low. Until it can reclaim this level, the trend is considered bearish.
The YFII price has been decreasing since reaching a local high of $6,940 on Sept 12. The dip continued until Sept 24, when YFII found support and bounced back at $2,800.
YFII Falls from Support
However, the rally was short-lived and YFII broke down on Oct 2 to reach an all-time low of $1,169.
The price has been following a descending resistance line since the aforementioned Sept 12 high. The slope of this resistance is uncertain due to the presence of several wicks.
If YFII were to break out from this resistance line, the $2,800 level would likely act as the next resistance to the upside.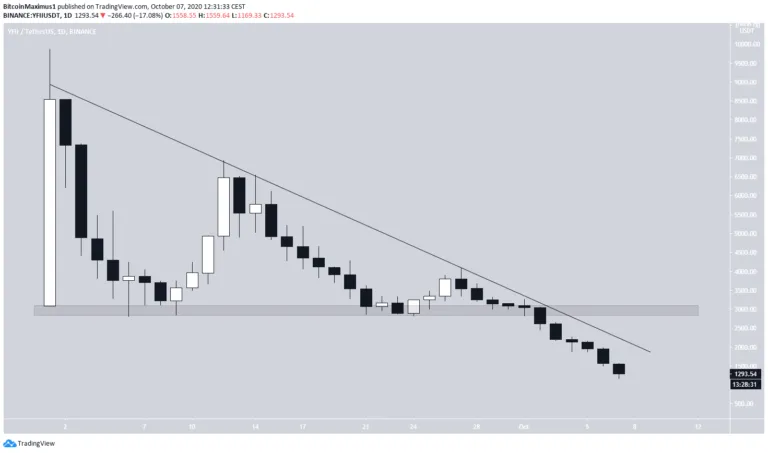 No Signs Of Reversal
Cryptocurrency trader @TradingTank outlined a YFII chart, stating that reclaiming the $2,400 level would be bullish in the medium-term.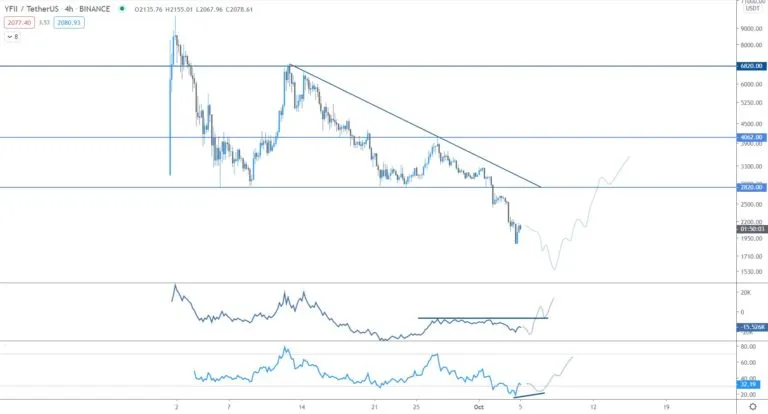 However, technical indicators do not yet show any reversal signs. The MACD, RSI, and stochastic oscillator are all decreasing, and even though the latter two are oversold, they have not generated any bearish divergence.
Therefore, while the decrease has been extended, YFII has yet to show any signs that it will soon reverse its trend.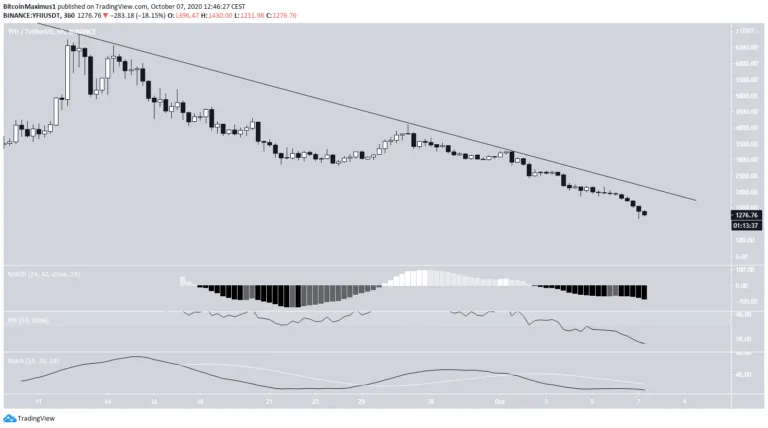 Wave Count
Beginning with the aforementioned Sept 12 high, the YFII price seems to be completing an A-B-C corrective pattern (shown in black below) and is currently in wave C.
Wave C is created by a bearish impulse (red) in which the price is in the fifth-and-final wave. While it seems that YFII will soon complete its decrease and begin an upward retracement, we do not yet know whether the ensuing movement will be a correction or the beginning of a new upward move.
Furthermore, we do not yet know how much further wave 5 will extend, allowing for the possibility of the price going lower.
A breakout from the descending resistance line would indicate that the retracement has begun.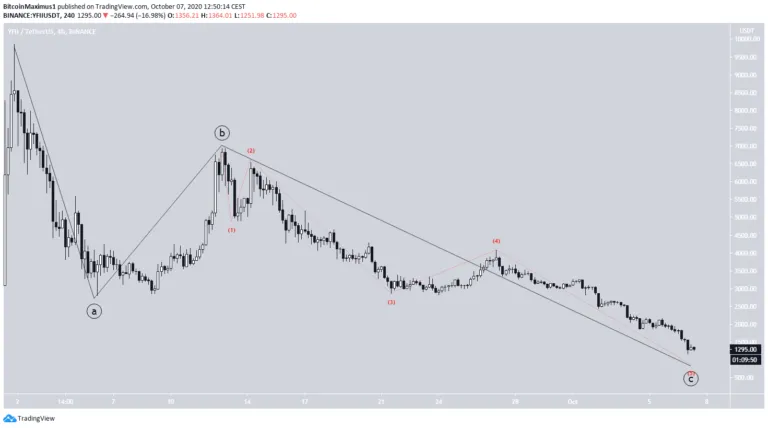 To conclude, while the trend for YFII seems to be bearish, it looks to be nearing the completion of the current downward move, and a significant upward retracement would be expected to follow. However, the price has yet to show any reversal signs.
Source: https://beincrypto.com/